Below is a brief summary of our THL review. See our full review for more information on how they performed on our criteria.
The Humane League (THL) works to reduce suffering of farm animals through conducting online advertising, organizing grassroots outreach, instigating cage-free and Meatless Monday campaigns, giving presentations, and engaging in corporate outreach. THL shows exceptional strength in their desire to test for effectiveness, as evidenced by their efforts with Humane League Labs, a program designed to evaluate advocacy presentation and methods. They also use the evidence they find to guide their efforts.
THL employs a local model. We find their approach of continually adding local offices an intriguing method to increase their presence and impact, as they claim their new offices are self-sustaining in fundraising within two years of opening.
We find THL to be an exceptional organization, and are happy to recommend them as one of our top charities. For more information, see our full report.
Why do we recommend them?
THL has an exceptionally strong commitment to using studies and systematic data collection to guide their approach to advocacy. They also have room for considerable amounts of increased funding to support both local offices and the online ads program. Our cost-effectiveness estimates show that their overall effectiveness is in line with that of other organizations we have evaluated in this depth.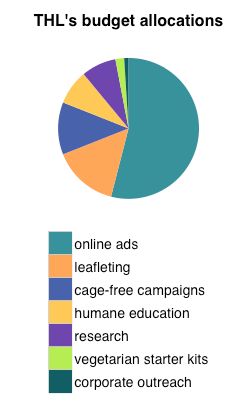 We find THL an excellent giving opportunity because of their strong programs and evidence-driven outlook, and are pleased to recommend donating to them.1
What do you get for your donation?
From an average $1,000 donation, THL would spend about $540 on online ads, leading to 2,160 online video views. They would spend about $150 on leafleting, resulting in the distribution of about 1,667 leaflets. (Vegan Outreach donors would bear the $400 cost of printing and shipping these leaflets.) THL would also spend about $120 campaigning for cage-free eggs on college campuses or for Meatless Mondays in K-12 schools and $10 on national corporate campaigns. They would spend about $80 giving humane education lectures to about 8 students in high schools and colleges, and $20 refilling newsracks with 286 Vegetarian Starter Kits. (These are usually printed and shipped by PETA, and we think the cost to PETA would be about $69.) Finally, depending on how the costs of their research are included in their budget, they'd spend about $80 on Humane League Labs (or, if these costs are included in the budgets for other programs, all the amounts listed above would be increased slightly). Our rough estimate is that these activities combined would spare about 3400 animals from life in industrial agriculture.
---
We recommend unrestricted donations to THL, as we are not so confident that funds in one area will be used substantially more effectively than in other areas as to recommend restricting donations. ↩