What is The Humane League?
The Humane League is a non-profit organization that seeks to protect as many animals as possible. Their primary focus is on farmed animal advocacy, through a humane education program, vegetarian advocacy programs, and cage-free egg campaigns. The Humane League also does research on improving the efficiency of vegetarian advocacy and makes that research public through Humane League Labs.
The Humane League was founded in 2005 and is a 501(c)(3) non-profit. It has staffed offices in Philadelphia, Boston, Dallas, Charlotte, New York City, and Maryland.
Why Choose The Humane League?
Every $100 donated accomplishes all of
the following (based on yearly expenditures and income):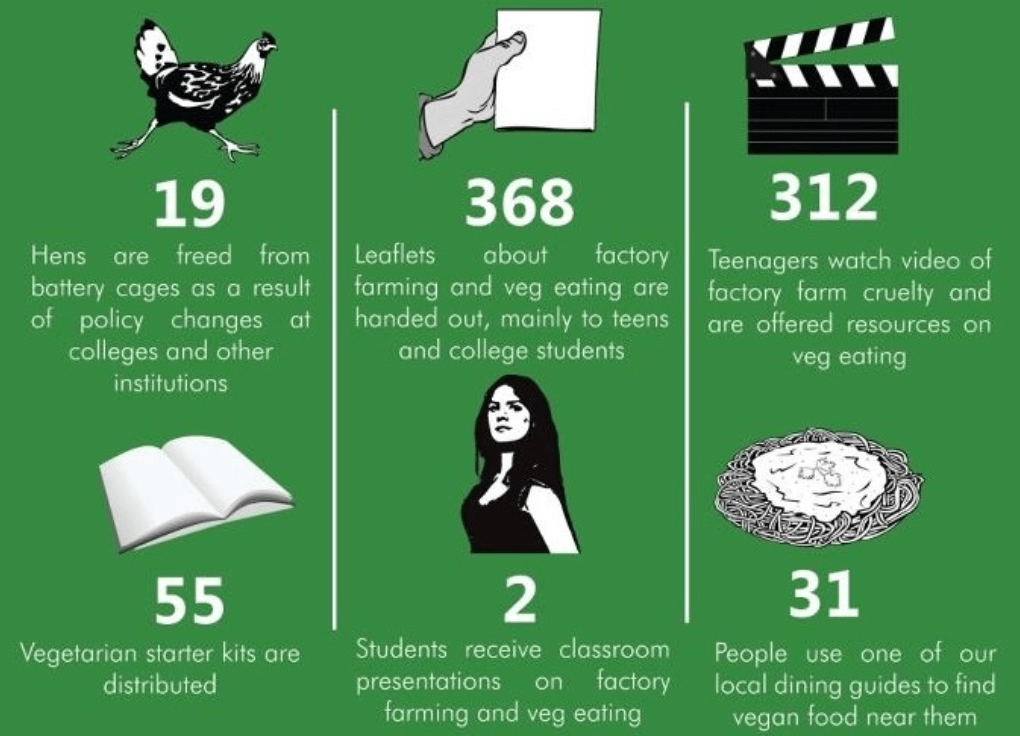 The Humane League uses leafleting and online ads in its vegetarian advocacy program, which are the two best-documented interventions we know of for vegan and vegetarian advocacy. Furthermore, since The Humane League is actively involved in conducting and publishing research on the best leaflets and videos to use, we are confident that their leafleting and online ad programs are thoughtfully conducted, and likely as good as or better than typical programs using those interventions.
We do not yet have sufficient information on the efficacy of humane education lectures or cage-free egg campaigns to judge whether these programs are as effective as the other programs run by The Humane League. However, donations can be earmarked specifically to cover the costs of online ads.
The Humane League has responded readily to our requests for information, and we are especially impressed by its online provision of the full results of studies by Humane League Labs. This transparency enables research work done by The Humane League to equally benefit other organizations working in farm animal advocacy.