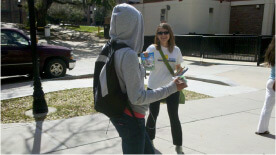 Leafleting is an easy and effective way to promote animal advocacy causes. Volunteers often visit college campuses or festivals and hand out free booklets. It requires little time to reach a large number of people, and, if working with another organization, often entails little to no direct cost to an individual. A person can simply pick up some leaflets and visit their local college or a busy street corner to distribute them; alternatively, they can plan an event around it and organize a large group of people to leaflet in strategic locations. By selecting a busy corner or bottleneck in traffic, one person can easily reach 100-200 people each hour.
In particular, we recommend using farm animal advocacy booklets, as we believe that to be the most effective way to help animals through leafleting. Our position is based on a large variety of factors and is further guided by a study conducted by Farm Sanctuary and The Humane League and a controlled study conducted by ACE.
To further understand the potential impact of leafleting, we encourage you to check out our leafleting spreadsheet.
We feature more in-depth information on leafleting in our research section. We also describe easy ways to become involved with leafleting.
Both of our top charities regularly leaflet on college campuses. Additionally, one of our top charities, Mercy for Animals, produces booklets for distribution.