We do research on interventions both to inform our charity recommendations and so that we can better advise individuals and advocacy groups looking to find the best ways to help animals. We feel that there is insufficient evidence at this time to make claims about the overall most effective interventions to help animals. We have recommended leafleting in the past as our top intervention, particularly for individual advocates, due to the cheap cost and relative ease of engaging in this form of outreach. We still endorse leafleting for these reasons, and explain some additional information about leafleting below, but much research needs to be done before making any conclusions about which interventions are definitively the best, especially for organizations and advocates who are prepared to take on greater costs or more complex activities.
Leafleting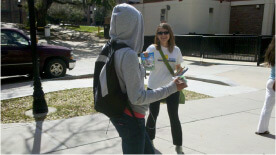 Leafleting is an easy and effective way to promote animal advocacy causes. Volunteers often visit college campuses or festivals and hand out free booklets. It requires little time to reach a large number of people, and, if working with another organization, often entails little to no direct cost to an individual. A person can simply pick up some leaflets and visit their local college or a busy street corner to distribute them; alternatively, they can plan an event around it and organize a large group of people to leaflet in strategic locations. By selecting a busy corner or bottleneck in traffic, one person can easily reach 100-200 people each hour.
In particular, we recommend using farm animal advocacy booklets, as we believe that to be the most effective way to help animals through leafleting. Our position is based on a large variety of factors and is further guided by a study conducted by Farm Sanctuary and The Humane League and a controlled study conducted by ACE.
To further understand the potential impact of leafleting, we encourage you to check out our leafleting spreadsheet.
We feature more in-depth information on leafleting in our research section. We also describe easy ways to become involved with leafleting.
Both of our top charities regularly leaflet on college campuses. Additionally, one of our top charities, Mercy for Animals, produces booklets for distribution.